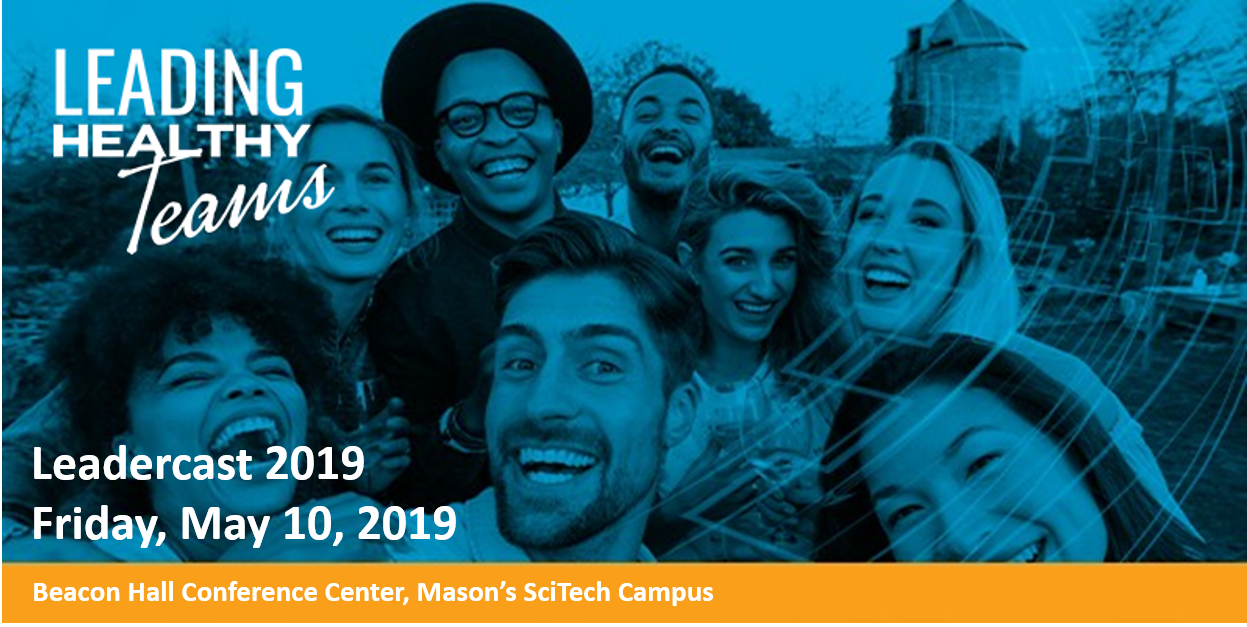 Friday, May 10, 2019
8 a.m. to 4 p.m.

George Mason University - Science and Technology Campus
Beacon Hall Conference Center
Limited Seating!
Attend Leadercast and accelerate your Leadership Journey
Exclusive Event Sponsor
About the Event
Leadercast Live is the largest one-day leadership event in the world, broadcast live each year from Atlanta to hundreds of Host Sites around the globe. In 2019, Leadercast Live will bring together experts in leadership and organizational health to help attendees master the art and science of developing and leading healthy teams.
As leaders, we may wonder what defines a team's success. Is it based solely on achievement, or is there more to the story? The best leaders know a successful team is made when focus, care, attention, and development are directed to its members. Healthy teams yield effective collaboration, fulfilled employees, high organizational engagement and greater long-term success. Learn what it takes to ensure your team functions at its highest and healthiest.
Registration: $125
Exclusive Lunchtime Presentation: Brad Edwards and Darrell Green
Casual conversation with Brad Edwards, athletic director, and Darrell Green, associate athletic director, Intercollegiate Athletics, George Mason University
Mason's athletic director since 2014, Brad Edwards has led a departmental effort that secured more than $20 million in new revenue and product through fundraising and corporate sponsorship agreements, and has greatly enhanced athletic facilities.
Darrell Green joined Mason Athletics in August 2016. He works with the department's senior leadership to build and enhance internal and external relationships, engage in fundraising initiatives, and collaborate and communicate with constituents across the community.
Both Edwards and Green enjoyed successful careers in the NFL as standout athletes. Edwards and Green were teammates on the Super Bowl XXVI Champion Washington Redskins. At this exclusive lunchtime presentation, they will share stories and insights on team leadership from their experiences on and off the field.
Leadercast Live Speaker Lineup
Ticket Information

Registration: $125

Your all-access ticket to this international event includes:
Leadercast 2019 broadcast, featuring world-class speakers sharing their insights and tips on what it takes to accelerate your leadership journey
Leadercast notebook for capturing all that you learned
Continental breakfast and lunch, snacks, and beverages throughout the day
Exclusive lunchtime presentation with Brad Edwards and Darrell Green
Exhibitor Showcase, featuring businesses and organizations handpicked to take you and your business to the next level
On-site parking at the venue
Thank you to all our current Exhibitors!
Photos from Leadercast Live 2018 at the SciTech Campus
32395153_204641450333452_1984214018180513792_o
32456326_204616537002610_9075835778478637056_o
32350008_204612323669698_5504097333962342400_o
32478036_204615947002669_2399412861781671936_o
Location
George Mason University, Science and Technology Campus
Beacon Hall Conference Center
10945 George Mason Circle
Manassas, Virginia 20110
Join more than 100,000 leaders for the largest one-day leadership event in the world!
Broadcast live from Atlanta to hundreds of locations around the world each year, Leadercast Live brings together some of the most recognized and respected global leaders to create a leadership experience unlike any other.
On-Site Emcee
Premier Health Sponsor
Education Sponsor
Fitness Sponsor
Volunteer T-Shirt Sponsor
Media Sponsor
Communication Sponsors
Quick Links
Be a Sponsor
Would you like to engage with event attendees and leave a lasting impression? Become a sponsor! Contact Molly Grove for Leadercast Live sponsorship opportunities.